Nuclear Science Symposium
and
Medical Imaging Conference
Lyon, France
October
15-20, 2000






CEA/LETI and ESRF visit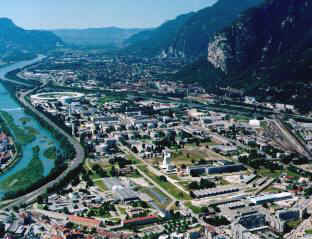 Grenoble is a major European Center in the domain of electronics, information and communication technologies (more than 23 000 jobs) and research (17000 people). It contains also 55 000 students in 4 universities.
(see http://www.grenoble-isere.com/).
The visit which is scheduled the 20th afternoon will concern two significant actors in this area:
The Commissariat à l'Energie Atomique (CEA, centre de Grenoble) with a focus on the Laboratoire d'Electronique, de Technologie et d'Instrumentation : LETI (see http://www-leti.cea.fr/ ). It is one of the largest applied research laboratories in electronics in Europe: microelectronics, microtechnologies and microsystems, optronics, computer technology, instrumentation and systems.
The European Radiation Synchrotron Facility (ESRF): operating a powerful source of light in the X-ray range, the ESRF is a large experimental facility for basic and applied research in physics, chemistry, materials and life sciences. (see http://www.esrf.fr/ )
Organization:
| | |
| --- | --- |
| 13:30 | arrival from LYON |
| 14:00-15:00 | formal presentation of CEA and ESRF |
| 15:00-16:30 | visits of CEA/LETI and ESRF in two groups |
| 16:30-17:00 | refreshments |
| 17:00 | departure to LYON |